OTC Daihen - DM Range of Inverter Mig/Mag Welding Machines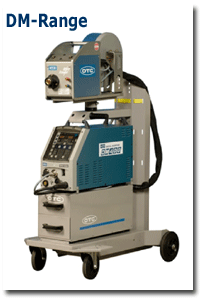 Manufactured at amperages of 320A, 380A and 400A, OTC's range of standard Inverter machines contain newly developed Digital Arc Control systems to offer improved spatter reduction, and superior weld quality on carbon steel via precise control of the output weld power. Subsequently, smoother more stable welding arcs provide outstanding production benefits on all material thickness, helping to reduce downtime created by cleaning weld spatter from the job piece, blending in lumpy welds and weld re-work due to lack of fusion. Operator set-up skill is assisted via synergic programmed settings which allow precise weld power output setting with just one control knob to operate. There is also a memory function to allow programmes to be stored for QA requirements.
The end result is improved fusion, cosmetic bead appearance, cleaner workpieces and faster welding speeds. Other benefits in comparison with old technology Mig/Mag machines include instantaneous arc strike eliminating contact tip burnback, and mains voltage compensation plus self-adjusting arc compensating for operator tip stand-off error, all contributing to consistent weld fusion throughout the job. There are many other cost saving benefits with the equipment which would provide fast payback on return of investment, and increased profitability of thousands of ££'s per welder per year, every year!