OTC Daihen - DP270C Compact Inverter Pulse Mig/Mag Welding Machines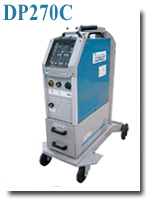 The OTC Daihen - DP270C with 270 amps of welding power is a robust high build quality compact machine. The DP270C available from welding machine distributors Philpott and Cowlin, is designed for use on light to heavy fabrications in industrial production where all aspects of weld quality is important.
Although the machine can be operated with all of the various Mig wire sizes, using the one wire size 1.2mm diameter for all work will provide many benefits, especially when welding thicker materials where good fusion and penetration is crucial. The unique special arcs available for selection in the digital programmer will allow the operator to weld carbon steel, aluminium and stainless steel in any thickness up to 50mm, with just the one 1.2mm wire size, producing superior weld fusion with practically zero weld spatter, reduced distortion, and improved cosmetic appearance.
There are great benefits to using the OTC Daihen DP270C machine including increased weld quality; increased productivity so reducing costs on all applications, and the machine also comes with the DC lift-Tig and Mig brazing functions.
Contact our sales desk today on 01179 668431 to arrange a demonstration showing the unique arcs available on the DP270C Pulse Mig machine on fabrications of plate thickness from 1.5mm to 50mm highlighting the huge waste in costs that old technology step-voltage mig/mag welding machines cause.