OTC Daihen WB-A350P AC/DC Inverter Tig Welding machine ( 350 Amps )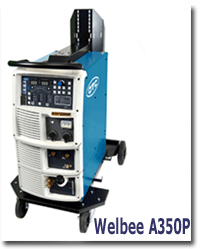 Japanese technology AC/DC Tig welding machines are universally accepted as setting the highest standards in Tig welding of special aluminium alloys, and other difficult to weld aerospace materials. The new OTC Daihen A350P AC/DC Tig welding power-source offers unrivalled advanced technology arc characteristics in both AC and DC to re-assert this claim. OTC Daihen Corps are, to date, the only welding equipment manufacturer in the world to develop and produce their own patented Welbee ("weldings best engine") LSI Chip for their welding machines, designed solely and specifically for improved welding arc performance and producing unmatched nano-second arc control feedback. The resulting unique advanced AC waveform , aligned with unrivalled 100,000 Hz soft switching secondary output frequency, provides perfect instantaneous low amp arc strike, and unbeatable arc stability on previously difficult to weld aluminium materials and castings.
The unique output waveform generated also transfers itself to DC Tig welding with instantaneous arc strike even at 2 Amps, and a soft, stable DC weld pool for welder friendly operation, even when joining the thinnest of materials.
The first Japanese designed Hitachi AC/DC Inverter Tig welding machines introduced in the UK via Philpott & Cowlin Ltd in the early 1980's, set the benchmark for outstanding reliability and x-ray quality aerospace quality welding demands throughout the industry. The latest advanced technology OTC Daihen A350P AC/DC Tig welding machine incorporating unique LSI digital control arc characteristics surpasses anything on the market today in relation to build quality, reliability and performance