BERNARD ( ex-Tregaskiss ) TOUGH GUN
....THE TOUGHEST MIG GUN ON THE MARKET !
Top Quality means Durability
Try and tear a TOUGH GUN unicable, its not easy. The outer jacket is processed using electron energy to cross-link the molecules. The end result is a specially formulated cable designed to stand up against rugged welding enviroments resisting cuts, spatter and oil, but still remaining flexible with a spare switch lead for back-up.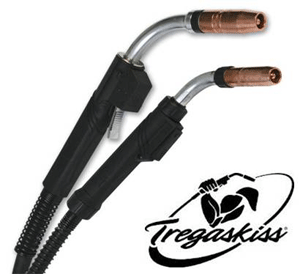 Indestructable Handle
Moulded from lightweight resin the handle is ergonomically comfortable, removable with two screws and comes with a lifetime guarantee. The Tough gun light -touch trigger shape and position also assists different grip options for operator comfort and reduced finger fatigue. The Tough Gun offers a lifetime guarantee with a free of charge replacement on the self-cleaning micro-switch.
Patented Taper-lock Contact Tips
Manufactured with high conductivity copper with coarse thread to prevent cross-threading and extremely high size tolerance for superior wire feeding and extended tip life. With dual thread design, the tip can be removed and rotated 180 degrees to a new wearpoint so doubling tip life. These contact tips when used with good quality Mig wire will out-perform most contact tips many times over.
Copper Gas Diffuser
Large size highly conductive Diffuser to dissipate heat quickly to extend contact tip and diffuser life. Unique Taper-lock design ensures a more secure seat than most other torches, ensuring the contact seats deep and tight in the diffuser guaranteeing positive electrical conductivity and improved lifetime. O-ring on the barrel of the diffuser eliminates air contamination to the shield gas by ensuring a tight fit to the gas nozzle.
Conduit Liners
Made from high carbon music wire for smooth wire feed and long life.
Aluminium Armoured Gooseneck
An insulated, thick walled copper tube is wrapped in a tough aluminium jacket that disappates heat quickly, and stands up to mis-use and abuse.
THE MOST EXPENSIVE MIG GUN IS THE ONE THAT ROBS YOUR WELDERS OF TIME BY CONSTANTLY BREAKING DOWN AND REQUIRING REPLACEMENT PARTS .......
Contact our sales office today on how the toughest gun in the world can improve your bottom line ........Telephone 01179 668431 for further information.